REVIEWS









Overall Rating
Ranked #1 of 11 in Lambeth
Hearn Bros has been rated one of the 'Most Reviewed Garages'.
These are the garages that have more recommendations from readers of Honestjohn.co.uk than any other.


Simply the best! The service offered by this garage is exceptional. Honest, helpful and reliable.
I would not go anyway else. This garage should win awards for its understated really exceptional service it offers. No frills just honest, good reliable excellent service every time. There is no need for a waiting room because you are never kept waiting because the communication is excellent.
Recommended January 2019







This a small and personal family business
I have always had brilliant service from hearns. I'm so lucky to have met them. I've been a very satisfied customer for over 30 years and I have absolute confidence in them.
Recommended March 2018








The sort of garage everyone
WANTS to use but is rarely to
be found
I have been a customer since 1977. During that time I have taken (or recommended) many different makes and marques to the garage for repairs and/or servicing. The quality of both attention and workmanship has always been of the highest.
Recommended February 2018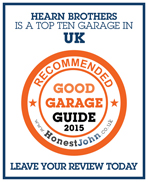 A great little garage doing car repairs, servicing and MoTs the proper way
I only use Hearn Bros for all my MoT needs, and have done for many years. Matt has become a friend, not just a mechanic.
Recommended December 2017







Great customer service
Hearn Brothers provides a service that you would normally associate with a high end dealerships but
with that trusting feeling of a
local tradesman truly putting
the customers first. No job is too small and the work ethic right first
time is evident in the approach
taken by the team.
I gladly recommend Hearn Bros
to people seeking a reliable and trustworthy repair garage.
Recommended February 2016








Friendly, helpful, efficient,
well-priced, quick service,
and Hearn Bros always go
the extra mile to help
We have been going to Hearn Bros
for around 23 years and the service
is excellent. The staff have always
been Courteous and jobs have
always been done well and on time.
Long may they be there!
Recommended December 2015







Go to The Good Garage Guide
to read more of our reviews.




Full Service, Lexus Ct 5 / 5
The guys at Hearn Bros carried out an amazing job, super quick and efficient very happy with the work done. Will come back if ever in need. Thank you guys.
Recommended May 2019


Oil Change, BMW 1 Series 5 / 5 Excellent and prompt service and very knowledgeable and friendly mechanics and a very good price!
Recommended March 2019


Levente, ABS System, Subaru Forester 5 / 5
Quick reply, honest price.
Recommended March 2016


Go to whocanfixmycar.com
to read more of our reviews.





".....The Hill Garage where Hearn
Brothers is based, is the specialist
personified: one of a dwindling
breed where old-fashioned service
and courtesy are a huge part of
the business....."
Friday 19th October 2001





Many thanks for the recommendation of Hearn
Brothers in your Good Garage
Guide. I have been delighted
with the level of service I have received there on many occasions.
A.L, via email
That's good. Hearn Brothers
was the first garage to be highly
recommended by a lot of readers.
It's pleasing that they have kept
up the high standards.

TELEGRAPH MOTORING
Feb 7 2009

In The Daily Telegraph's
Good Garage Guide of October 1996 we were featured as:

1. The only recommended garage
in the whole of South London.


2. The garage which received
more customer recommendations than any other garage in the
whole of the country.